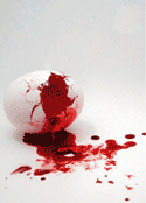 Me siento místico ante lo que me rodea, de un clan grande y ancestral al que nada puede atacar. Fuerte. El clan cerebral....
Soy libre, me gusta X ,supongo que lo sospecha, me gusta esa sensación, pase lo que pueda llegar a pasar esta sensación no me la quita nadie y la disfruto.
Así que canto.... por ejemplo una canción de Disney, ala y en inglés:
"And out there
Living in the sun
Give me one day out there
All I ask is one
To hold forever"
A veces pudiera parecer que las cosas no van bien o que las cosas van bien. Todo es secundario, lo importante es lo que parece que siento por "ella", ahí está la grandeza. Creo que me gusta una imagen de ella, mezclo lo que siento cuando estoy a su lado con todo lo que me falta por rellenar aparentemente en mi psique y en mi vida.
Pero sé (y una sonrisa inunda mi celebro de cartón) que como se cruce adecuadamente en mi camino le voy a tirar los trastos de una manera brutal!
- Este fragmento de debajo gana mucho cantado:
"Who is the monster and who is the man?"
Y mas cosas que pasan ahora por mi mente:
como un fragmento de Miedo y asco en Las Vegas.... que grande!
"" DUKE AND GONZO FLOAT BEATIFICALLY IN THE GLOWING, SHIMMERING
MOONLIT SURF.
DUKE (V/O)
Our trip was different. It was to
be a classic affirmation of
everything right and true in the
national character; a gross,
physical salute to the fantastic
possibilities of life in this
country. But only for those with
true grit...
EXT. AND EVEN FURTHER DOWN THE ROAD TO LAS VEGAS - DAY
DUKE's intense face.
DUKE
...and we're chock full of that! ""
vaya diitaaaa......... Oijj!:
"Tengo una llaga en la boca pero la verdad es que me puede incluso molar el tener el labio hinchado y doloroso, no hay mal que por bien no venga o algo así" Confunción
PD: A reseteado el router uterino?