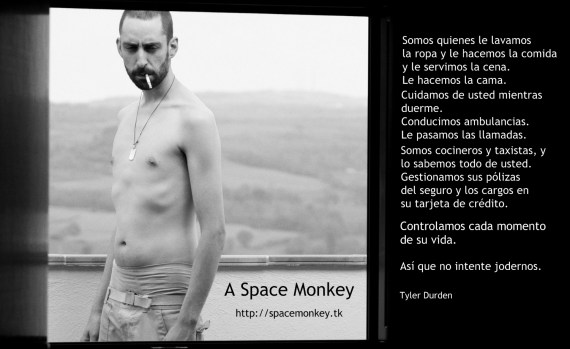 Photo from my gallery
"Like a monkey ready to be shot into space. A space monkey ready to sacrifice himself for the greater good.

The first soap was made from the ashes of heroes. Like the first monkeys shot into space. Without pain, without sacrifice we would have nothing."
Una amiga me mandó este video... sorprendiéndome mucho.
El consumismo es la arquitectura de la sociedad que ha aniquilado el espíritu del hombre.
Las guerras, en las que los instintos se veían satisfechos, han sido sustituidas por el estado del bienestar, que se soporta por los que en otro tiempo morían como soldados hoy ahora han aceptado una esclavitud voluntaria.
El anaconda hablando de El club de la lucha (interesante analisis de la película)
Pd: El 25 de Mayo se graba lichamiento en Can Freak (inscripciones abiertas) y el 15 de Junio una persecución de BMW´s.... suma y sigue.