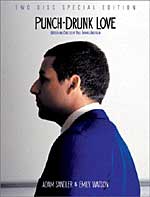 Esto es una peli grande, y tenía pensado meter otro fragmento que -al parecer- no aparece en el guión original ,se lo inventarían el último momento.
Una panda de matones rodean en la noche a nuestro heroe para que le den una pasta que según ellos les debe al haber llamado a un teléfono erótico.
La cuestión es que el les decía que le importaba un rábano si le zurraban o no, que tenía a una persona a la cuál quería y eso lo inmunizaba de todo (incluso del dolor de las hostias)
Por otro lado dejo aqui un fragmento de otra secuencia en el que los dos enamorados están muy cerca mirándose a los ojos y Barry suelta super cariñoso:
(BARRY, una persona de hoy en dia)
"IIIIIIIIIII don't want to hurt
anything ever, but what I'm talking
about is -- have you ever held a
little puppy or a little kitten and
it's just the cutest, softest, most
precious thing in the world and out
of the blue you get this feeling in
your gut and all you wanna do is
squeeze it. Just fuckin squeeze the
shit out of it. To take a little
puppy and smash its skull...just so
precious, so beautiful. Just so god
damn wonderful and cute you wanna
smack it and kick it and love it.
Fuck. I don't know. I don't know.
And you, you.....I'm looking at you
and I just....your face is so
beautiful I just wanna smash it,
just smash it with a sledgehammer
and squeeze it...you're so pretty."
Grande.
El padre de la criatura
(Punch drunk Love aqui traducido como "Embriagado de amor")